Enjoy a few fun water activities during your next vacation.
Bonaire is an island filled with various types of water activities. If you have visited Bonaire before, you know the possibilities can be endless, so consider a few of the water activities listed below during your next vacation to dushi Bonaire.
Fish Like a Local with Mako Tours
Mako Tours offers you the ability to "fish like a local." Jordan, the Captain, is a native local with unbeatable knowledge about deep-sea fishing in the waters of Bonaire. With a fully equipped boat, you and your family or friends will have an amazing experience out at sea. Who knows what you might catch?
Snorkel with Private Guided Tours Bonaire
Private Guided Tours Bonaire offers snorkeling and island tours on Bonaire. With a private guide, you will be in safe hands as you snorkel around the stunning reef and discover the beauty below the surface. Snorkel gear is included, just bring your own water shoes for comfort. Combine your private snorkel tour with an island tour and experience the best of both worlds as you explore dushi Bonaire.
Luxury Dining with Melisa Sailing
Melisa Sailing offers a luxury dining experience at sea as you watch the sun melt into the Caribbean Sea. From the moment you step on the boat, you will be pampered as you relax in your lounging area. Enjoy a luxurious 6-course dinner, including drinks, during this 4-hour sail along the coastline.  
SUP Yoga with IRIE Sports & Wellbeing Bonaire
IRIE Sports & Wellbeing Bonaire will help you care for your body during your holiday. Whether you want to experience SUP Paddleboard Yoga on the water, a Yoga class, or a TRX class, you will enjoy connecting with nature. Are you looking for a massage? Consider booking a massage with Ladina and melt away the stress during your vacation.
Set Sail on a Private Catamaran with Life at 8 Knots
Sail along Bonaire's coast on a beautiful private catamaran with your closest friends and family, and stop to enjoy the water and tasty food. Life at 8 Knots offers various charter packages. Each charter is 100% customized to your group's tastes & wishes. Do you want to dive as well? No problem! Just request it in advance and your wish is granted.
Dive with Carib Inn.
Carib Inn is located on the waterfront and in walking distance of the city center. It has a full-scale dive shop and offers excellent boat dives and PADI courses. Whether you choose to shore dive or join them for boat diving, you will be in good hands with their excellent staff. Are you a snorkeler? Enjoy entering the Caribbean Sea from their dock just steps away from your room.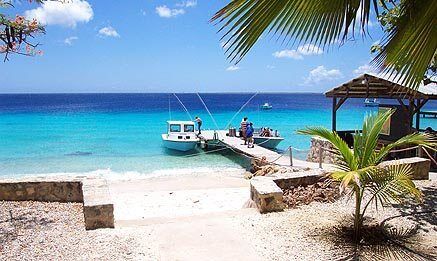 Bottom Fishing with Flying Fish Charters
There's nothing better than a day at sea. Let Flying Fish Charters take you on a deep sea fishing or offshore trolling excursion on their 42 ft Bertram convertible sport fisher. Fully equipped with amenities, you and your friends or family will surely have an amazing fishing trip experience.
Kayak with The Mangrove Info Center
Kayak through Lac Bay's mangrove forests is a peaceful and relaxing experience. The Mangrove Info Center will guide you through some of Bonaire's mangrove forests in the Lac Bay area. During your excursion, you learn about the importance of the mangroves and about the juvenile fish in the area from your trained guide.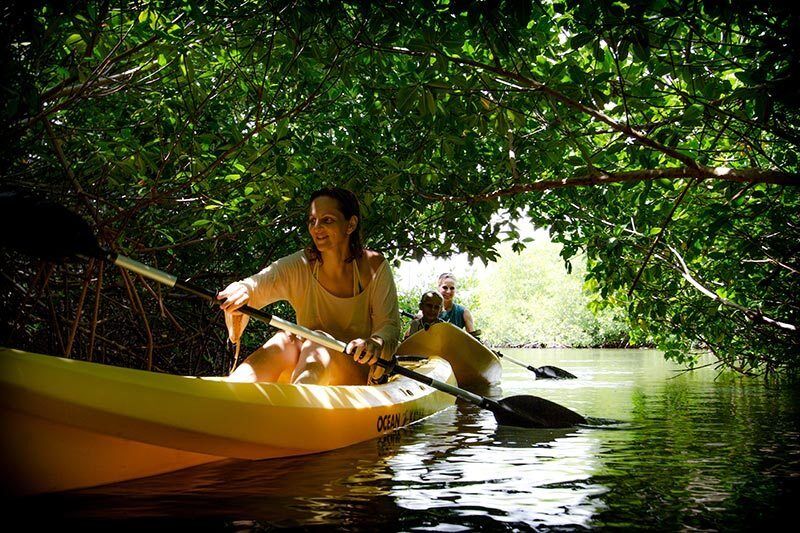 Exploring Bonaire has many options.
During your next visit to Bonaire, don't forget that there are many activities to experience as well. Be sure to try a few water activities on your next Bonaire vacation!
And just a friendly reminder as you are planning your next visit to Bonaire, make sure you use the Official Visitor Entry Tax website for payment up to 7 days before your departure.
(Source: Bonaire Insider)