Dia di Rincon is celebrated each year at the end of April.
At the end of the Simadan (harvest), it's time for Dia di Rincon (Rincon Day), celebrated each year on April 30th.
It's been an annual event now for over thirty years!  Although the event dates back to Rincon's cultural heritage, today it also encompasses 21st-century pastimes such as good local food and non-stop music and dancing.
The festivities begin early in the day and go to the wee hours.
Starting early in the morning and continuing all day and into the wee hours, visitors will find a cornucopia of offerings showcasing Bonaire's unique history and culture.  There are stalls offering food, drinks, and things to buy, and there are several stages where folkloric dance groups will perform during the day and live bands take over at night.  Simply meandering down Rincon's main street will bring any visitor close to beautifully costumed dancers, singers, and other well-known Rincon inhabitants.
The day will start off early about 8:00 AM in front of the Catholic church in Rincon, where the raising of the flag will transpire to the resounding beat of a drum band.  Then, Mass will be celebrated, and then the party begins.
Enjoy shopping for unique articles, music, food, and drink.
Throughout the day, there will be stalls lining the main street of Rincon selling sweets, local "krioyo" food, and other goods or souvenirs, many of which are locally made on Bonaire.  The party will continue all day long.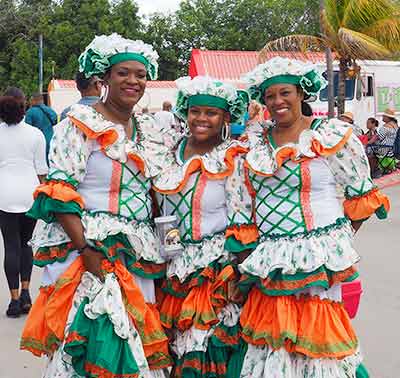 Simadan Parades
The traditional Simadan parade normally takes place in the later afternoon, while later in the evening, there is a modern Simadan as well.  If you are lucky enough to be on Bonaire during Dia di Rincon, be sure to enjoy this landmark event!