Let Zest for Life Yoga guide you through a beneficial Yoga class.
Practicing Yoga is beneficial for everyone.
Are you looking for a Yoga teacher on Bonaire to help guide your mind and body? Gwen, founder of Zest for Life Yoga, will help you re-energize and connect with yourself while increasing your core strength and flexibility. Many people also experience back pain or bad posture, but with patience and training, Yoga can help with specific ailments.
The meaning of Zest for Life.
"Zest for Life" means approaching life with more enthusiasm and is closely related to joy and happiness. Life is an adventure, and even inside the normal routine of your daily life, you can make space for these adventures. Through the Yoga practice, you become more aware and available of your time and how to spend it. It offers you the opportunity to redefine your life according to your values. Gwen's mission through Zest for Life Yoga is to help your life to the fullest by adding solid foundations to your daily/weekly life, so you can make the best of it every day!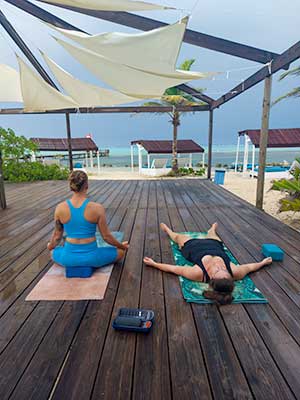 Types of Yoga offered.
Gwen specializes in Hatha Yoga, Vinyasa, Yin, and Meditation. She enjoys teaching private lessons and workshops tailored to your needs as well as weekly classes around Bonaire at various locations.
Private lessons – Do you want a private lesson to improve your practice? Private lessons can be tailored to your goals and taught at your location or Sorobon Beach Resort.
Private Workshops – Are you interested in specific areas of Yoga such as guided meditation, sun salutations, balancing on your arms, or inversions? Gwen loves to share her knowledge with others while helping guests work on their areas of interest.
Events – Add a Yoga session to your retreat, celebration, or event on Bonaire.
Group Lessons – Let Gwen guide you each week into a balanced practice. You will feel relaxed and strong, with the energy to go throughout your week. Group lessons on Bonaire are offered indoors or outdoors, depending on which class you join.
Meet your Yoga instructor.
Gwen, founder of Zest for Life Yoga, began practicing Yoga in 2017 due to a need to reduce anxiety and focus on being calm. Yoga allowed her to redirect her energy and focus on herself before the day's stress began. Over time, Yoga became an essential part of her daily routine. It helped her feel calmer, more alert, ready to face the day, and in a better mood overall.
Soon, she realized that her passion for Yoga outweighed the importance of her full-time job, so she took a leap and began a new chapter of her life. In 2020, Gwen completed more than 200 hours of training and became a certified yoga teacher. This experience was a revelation and confirmed that this was the path she was meant to follow.
The Yoga Gwen teaches on Bonaire is intended to help people find stability in life or manage anxieties. Her expertise allows her to introduce her passion to beginners and help more advanced students reach their specific goals.
Certifications
200h Yoga Teacher Training August 2020 – Arhanta Yoga
50h Yin Teacher Training March 2021 – Online Arhanta Yoga
300h Advanced Yoga Teacher Training June 2022 – Arhanta Yoga
In progress: 50h complement Meditation Teacher Training – Online Arhanta Yoga
50h Breathwork & Pranayama Teacher Training – Online Arhanta Yoga
Certified EFR & first aid PADI