Scuba Dive Certification
In addition to scuba diving, the shops offer a full range of instruction covering courses from entry to professional level. Almost all the certifying agencies are represented. PADI and SSI are a couple of available certifications. Many visitors who come to Bonaire to be certified prefer to do their classroom and pool work at home and come to Bonaire for their open water portion of their course. Check with your certifying agency if this option is available. It is also very important that you check with the dive center where you are completing the course to be sure that they are set up for your agency's referral program.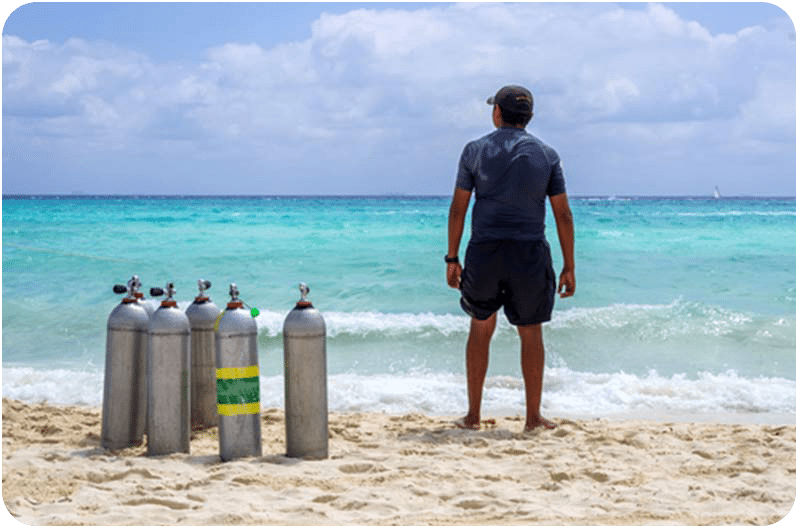 Boat & Shore Diving
Most dive operators feature one-tank boat dives in the morning, late morning, and early afternoons, as well as a night boat dive once or twice a week. Bonaire's boat diving is among the least expensive in the Caribbean. This is partly because almost all the dive sites are less than 15-20 minutes away by boat.
If you book a multi-day dive package, you will usually receive unlimited shore dives as part of the package. Some dive shops leave tanks out 24 hours a day, while others require tank pickup during business hours for after-hours diving. Most dive and snorkel sites are on the leeward side of the island where the water is very calm and there is no or minimal current. Klein Bonaire is reachable only by boat, as are some sites to the north of Bonaire. Sign up the day before for boat dives, by location.
For shore diving or snorkeling, you'll want to rent a diver-friendly vehicle, such as the popular 4-door pickup trucks from one of Bonaire's car rental agencies.
Nitrox
If you're certified for Nitrox, many of Bonaire's dive shops offer Nitrox filling stations.  Also, almost all dive operators on Bonaire offer Nitrox instruction and certification. Nitrox can be purchased on a per-tank basis or as a weekly package.
Tri-Mix (trimix)
Tri-Mix fills and instructions are available, although you should make arrangements in advance through your dive operator. Advanced technical courses, as well as gear rentals, are available.
Rebreathers
Rebreathers can be rented on Bonaire.  Several of our dive operators offer training courses for using rebreathers.
Other Services
Most dive shops on Bonaire also offer a complete range of rental gear for both snorkeling and diving, and will also provide beginner training for snorkelers. Some dive operations also offer guided snorkeling and night snorkeling.
Many of the dive shops also have an underwater photo or video shops associated with them. Besides renting cameras and strobes, you have the opportunity to take courses and learn more about taking great underwater pictures. If you are not the artistic type or would like a souvenir of your time spent underwater, you might arrange for a custom underwater video of a group dive or snorkel (see the Dive Operator list.)