The Bonaire Flight Schedule
There are several international carriers serving our island, making it relatively easy to get here. There is non-stop service (via Miami, Houston, Newark, Atlanta, Curaçao, or Aruba) as well as one-stop service from numerous points in the United States or from Europe (Amsterdam).
Visitor Tax
All visitors must pay a Visitor Tax of $75 per visit to Bonaire. This applies to all non-residents aged 13 and older. The Visitor Tax is mandatory for all non-residents traveling by plane or boat. The Visitor Tax can be paid online in advance up to 7 days before your arrival or upon arrival at the airport. Please make sure you use the link provided. If a website tries to charge you more than $75, then it is not the official website. For more questions, visit the FAQ page. 
As of January 2023, cruise ship passengers pay a visitor tax of $10 per visit. 
Airlines Serving Bonaire
Flights to Bonaire from the USA.
Delta Airlines offers one to three weekly non-stop flights from Atlanta to Bonaire, depending on the demand and the season. Occasionally, Delta Airlines offers daily flights in the winter due to high demands. Visit the Delta Airlines website for more details.
American Airlines offers one to three non-stop flights from Miami to Bonaire, depending on the demand and the season. Occasionally, American Airlines offers daily flights in the winter due to high demands. Visit the American Airlines website for more details.
United Airlines offers several non-stop weekly flights from Houston and Newark. All flights should be considered seasonal. This means that during periods of low demand, the airline may decide to withhold services until the demand is higher. There can be additional flights added to their schedule during times of peak demand. For more information about the schedule from both Newark and Houston, visit the United website.
The airline information above may change depending on the season. This means that the airlines may postpone flights during periods of low demand. It is always recommended to contact the airline or your travel professional to check on flight departures.
Connecting from North America via Curacao or Aruba:
Another routing option is to fly on several major U.S. carriers to Curacao or Aruba and then take Divi Divi or EZ Air onwards to Bonaire.  Aruba flights may require a change of planes or a stop in Curacao. Flying time between Curaçao and Bonaire is approximately 15 minutes on these carriers: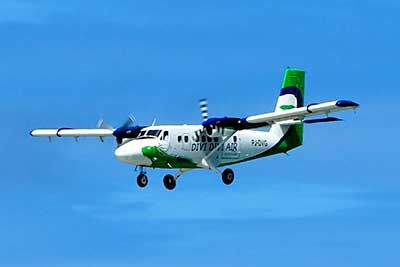 Flights to Bonaire from The Netherlands
KLM has changed the equipment on flights to and from the Dutch Caribbean, with the Airbus A330 and the Boeing 747. KLM operates seven roundtrips a week to this region in its current schedule, to Aruba, Bonaire, and Curacao. Extra flights are always added before and after the Christmas holidays. Check the KLM website for additional details.
TUI Airlines (formerly Arkefly) offers their 787 Dreamliner service between Amsterdam and Bonaire. Check their website for routing information and additional details.
Flights to Bonaire From South America
There are many South American national carriers that offer service to either Aruba or Curacao, where travelers can then pick up connections to Bonaire via local carriers.
As routings and schedules in this market change frequently, it's best that those interested in visiting Bonaire from South America check with their favorite carrier to see what is available at the planned time of travel.
Regional Flights from Bonaire to the Dutch Caribbean
Bonaire is connected to the five other Dutch Caribbean islands–Curacao, Aruba, St. Maarten, Saba, and St. Eustatius–by the regional carriers listed below.
For information on dialing a Bonaire phone number from off-island, see the Phone page.