St. Nicholas arrives on Bonaire in November.
Each year, on a Saturday late in November, there is much anticipation, especially by Bonaire's little ones, as the long-awaited Sanikolas (Sinterklaas in Dutch) and his Zwarte Piet are due to arrive.
Event venue.
Everyone gathers in Wilhelmina Plaza, where there are myriad activities for kids (and not-so-young kids!).  But even though these activities provide ample entertainment, the old gentleman himself always steals the show.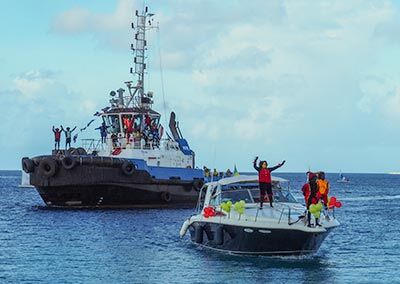 St. Nick arrives by boat from Spain.
Legend says that Old St. Nick, or Sanikolas in Papiamentu, sails in each year all the way from Spain.  As his ship arrives in Kralendijk's port,  everyone crowds along the ocean-side, to try and catch the first glimpse.
Once docked, the Piets explode onto the dock with energetic moves, dances, and long full-body waves, performed to the beat of a drum corps.  After a fine performance, Old St. Nick makes his way down the dock to meet with everyone gathered.
St. Nicholas and his Zwarte Piet visit for two weeks.
Tradition dictates that Sanikolas and the Zwarte Piets will spend the coming weeks visiting the children of Bonaire.  Young ones put their shoes out in a conspicuous place, and if they have been nice, he will leave presents and candy for them in their shoes on his special day, December 5th, the evening before he returns to Spain.  Some believe that if they stuff their shoes full of hay and carrots, Sanikolas will visit them for sure so his horses can enjoy the tasty morsels.
But if you have been naughty.
But what if you've been naughty?  Well, then you are stuffed in one of the Piet's sacks and carried back off to Spain where you will become a Zwarte Piet!