Shopping for unique souvenirs on Bonaire.
Many times shopping for a unique and interesting souvenir for friends or family back home can be a frustrating endeavor. Bonaire has many such options for souvenirs, but you may have to spend a bit more time and effort to seek them out. Here are some of the items available around the island; these items are truly Bonairean, either made with local products or highlighting the island itself.
One location where many of the island's artisans gather to offer their products is the Art & Craft Market, held in Wilhelmina Park. The market is open each day when cruise ships are in port. The market truly offers unique souvenirs hand-made by local artisans in a one-stop-shopping location!.
Cadushy of Bonaire Liqueur
Made with all-natural ingredients, this liqueur is based on the combination of many traditions of Bonaire. Cadushy of Bonaire was introduced on September 6, 2009, Dia di Boneiru, and it is available at many shopping outlets or supermarkets around the island.
Also be sure to sample the latest line, The Spirit of Bonaire. This line of spirits includes Rom Rincon, Cadushy Vodka, Koamati Tequila, Salu! Gin, and Captain Don's Whiskey. Also available are a variety of teas and dried cactus soup mixes, including recipes for the traditional method of making cactus soup, as well as a more modern way. To sample the products, visit the Cadushy Distillery in Rincon. Open Monday through Saturday from 10:00 AM until 5:00 PM.
MoltenWolf Glass
MoltenWolf Glass creates one-of-a-kind artistic glass. Local artists use fused glass art to create beautiful, unique pieces that everyone can enjoy. Whether you are looking for jewelry, wall decor, or more functional pieces, there is something for everyone.
MoltenWolf Glass is conveniently located on the waterfront and is open Tuesday through Saturday from 9:00 AM until 6:00 PM.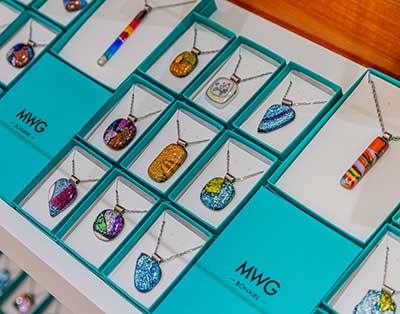 Take home an "Ellen Muller"
Those visitors who are interested in taking home an "Ellen Muller" can visit Pasa Bon Pizza in Kralendijk, where framed prints of Ellen's can be viewed and purchased.
Images are available for viewing at Pasa Bon Pizza.
Bonaire Salt Products
Bonaire's salt pans provide a steady supply of sea salt, which is then mixed with essential oils to create a soothing, exfoliating, and moisturizing bath salt that can be used in either shower or bath. Also, many of Bonaire's spas utilize the bath salts, offering full or partial body salt scrubs. Find Bonaire's salt products in many of Bonaire's shops.