Bonaire has three historic lighthouses, plus two light beacons.
For many people, historic lighthouses always evoke an alluring, almost romantic emotion, sitting as they do at the edge of the land, offering dramatic water views, built to withstand the continual wear and tear of the ocean.  Although Bonaire's historical lighthouses do not necessarily need to withstand stormy seas and treacherous water, they have, over the years, succumbed to the salt and wind. In October 2011, there was an effort by Bonaire's governments to renovate these historic landmarks.
Bonaire's lighthouses still function and help mariners to navigate the coastline.
Lighthouses have always performed an important role in maritime communities, warning those at sea of close contact with land or shallow reefs.  Bonaire has five lighthouses, although two are considered light beacons.
Bonaire's lighthouses were renovated in 2011 and 2012.
Beginning in October 2011, the Rijkswaterstaat immediately began work to renovate Bonaire's five lighthouses, which are located at Willemstoren, Spelonk, Wecuwa, Seru Bentana, and Klein Bonaire.  While this work had the goal of increased safety for those people who maintained the lighthouses, the monumental character of the buildings was also protected.
Willemstoren Lighthouse.
In March 2012, the first of the five lighthouses (or light beacons), and probably Bonaire's most famous lighthouse, Willemstoren, at the southern end of the island, was totally renovated and is in good working order. Willemstoren was Bonaire's first lighthouse, constructed back in 1837.
Spelonk Lighthouse.
In August 2012, the lighthouse at Spelonk was wearing a new coat of paint and is back at work, keeping mariners aware of Bonaire's eastern coastline. Dutch State Secretary (Infrastructure and Environment), Joop Atsma, was on a visit to the Dutch Caribbean islands of Bonaire, Saba, and St. Eustatius.  While visiting Bonaire, he officially re-opened the renovated lighthouse at Boca Spelonk by handing the key to the local government of Bonaire, symbolically returning the responsibility for the management and maintenance of the lighthouse to the local governmental level.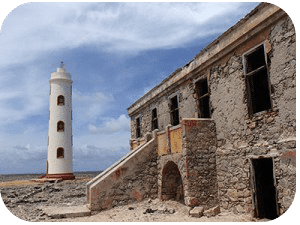 Seru Bentana.
The final lighthouse, that located at Seru Bentana in Washington Slagbaai National Park, was also renovated.  This renovation, completed in September 2012, included the replacement, with historically accurate parts, of the old lamp at the top of this lighthouse.  The old lamp was delivered to Museu Bonaire for their archival.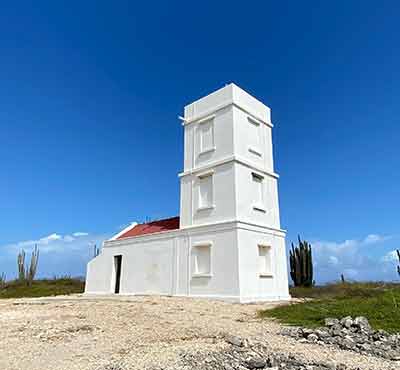 Light beacons at Klein Bonaire and Wecuwa.
To complete the renovation project, the light beacons at Klein Bonaire and Wecuwa were refurbished and are now in good working order.