Experience a unique deep-sea fishing adventure with Mako Tours.
Fish like a Local – Deep Sea Fishing
Bonaire offers some glorious, deep drop-offs just a few feet away from the shore, where most pelagic species can be found. The Captain goes out of his way to make sure you have an adventure of a lifetime. This is a private fishing charter, and if you don't catch any fish, Mako Tours will plan another trip for you—free of charge.
Jordan, the Captain of the Mako Tours boat "Valhalla", is a native fisherman with an unbeatable knowledge of the surrounding waters and marine life that thrives here. He is a fully-licensed Captain and will do his best to ensure you have a fishing adventure of a lifetime! The fully equipped boat has all the necessary gear and tools for the ultimate experience. The deep sea fishing charter targets wahoo, marlin, sailfish, yellowfin tuna, blackfin tuna, skipjacks, mahi-mahi and occasionally barracudas. Jordan also does deep drops for swordfish, queen snapper, red snapper, amberjack and groupers.
Choose from three options:
5-hour trip: During the 5-hour trip, you will head north toward the National Park. Your fully licensed Captain has been deep-sea fishing on Bonaire since he was a child. Mako Tours Bonaire uses quality gear (Shimano, Penn International) along with hand-made, unique local tools such as hand lines and down-riggers traditional to this region. You will troll along the way, with four lines in the water which target various pelagic species. The Captain is also comfortable with jigging techniques. He will switch between different fishing methods in order to maximize the catch.
On the afternoon 5-hour trip, we may explore the island's southside and combine trolling with bottom fishing.
6-hour trip: The 6-hour trip is perfect for those who want to extend their time on the water, maximizing the catch. This trip allows more time to bottom fish and performs deep drops in various areas, besides trolling along the way and targeting different pelagic species. We target red snappers, queen snappers, groupers, and amberjacks on our deep drops.
8-hour trip: More time on the water means more chances to catch your trophy fish! During the 8-hour trip, you will explore the deep waters of the North and focus on deep drops targeting the famous swordfish or the elusive queen snapper, red snapper, grouper, amberjacks and other deep sea monsters. You will switch between trolling and bottom fishing in order to maximize the catch. Mako Tours' goal is to fill up that fish cooler and give you an adventure of a lifetime of fishing like a local.
Mako Tours' clean and well-maintained boat provides high-quality fishing gear and tackle, coolers with ice, traditional local tools, brand-new engines, space to cool off in the shade and a comfortable lounge area with cushions.
Fish sharing
The catch is divided evenly among guests, Captain, and the boat. Choose the type of fish you prefer, and the Captain will clean, fillet and bag it for you free of charge.
What's included in the fishing trips?
Your fishing trip includes the Captain, frozen bait & tackle, coolers with ice, water & soft drinks, and fish cleaning. On 8-hour tours, Mako Tours also provides sandwiches & beer.
Boat Rental with Captain – Snorkel & Sightseeing
Besides big game fishing trips, Mako Tours also offers you an opportunity to go snorkeling and sightseeing around our beautiful Bonaire! You can charter "Valhalla" for a minimum of three hours, and Captain Jordan will take you to the most exciting snorkeling locations with pristine marine life & crystal-clear waters. Bring your own drinks and snacks, and make it a relaxing day on the water. Do you want to throw a line in the water and do deep-sea fishing too? Not a problem! They provide ample snorkel and fishing gear, GoPro, comfortable sun lounging area and most importantly—great service!
Renting a boat with a Captain means you get a professional, licensed guide to show you the island's beauty, and tell you about its history and heritage firsthand. You will benefit from guided snorkeling activities, quality gear, and maximum relaxation time. The masterful Captain prioritizes passenger safety and the well-being of our delicate marine life.
About Mako Tours.
Captain Jordan is an avid fisherman, born and raised on Bonaire. He is a fully-licensed Captain, and Emergency First Responder certified. He aims to tailor every trip to your specific needs, so let him know what you're after! Depending on the trip and species, you'll use techniques like heavy tackle, bottom fishing, trolling, big game fishing, handlining, and jigging.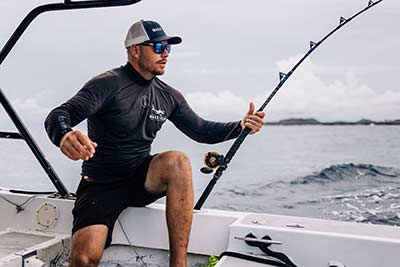 Your adventure begins on board a 32' Pinero Picua speed boat that comfortably fits 12 passengers. The boat is fitted with ice boxes, a fighting chair, quality gear, and a powerful depth sounder. All rods, reels, and terminal tackle are included in the price, so you can focus on what really matters, fishing.