Consider a few fun and exciting land activities during your next visit.
While Bonaire is known for its beautiful ocean blues and water activities, there is so much more to experience on dushi Bonaire. Exploring Bonaire is part of the fun, so consider a few of the land activities listed below during your next vacation.
Shekhinah Tours
Shekhinah Tours offers a variety of small-group island tours on Bonaire. Whether choosing an exhilarating tour, such as visiting the caves, or a more relaxed one, such as the Washington Slagbaai National Park tour, you will surely have an excellent time. Are you looking for something else? With 17 tour options available, you will surely find the perfect choice for yourself.
The Cadushy Distillery
Have you ever tried drinking a cactus? The Cadushy Distillery is nestled in the heart of Rincon, the oldest village on Bonaire. Stop by Monday through Saturday from 10 AM – 5 PM and learn how they make their six delicious liquors, five spirits, cactus tea, and soup. Did you know a few of their spirits have even won awards?! Enjoy sampling the award-winning products and relax in the spacious garden filled with beautiful birds.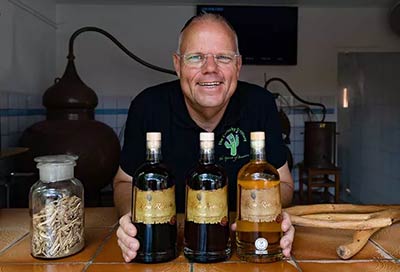 Shop local at MoltenWolf Glass.
MoltenWolf Glass creates one-of-a-kind glass art and is located in the heart of Kralendijk along the waterfront. Whether you choose a beautiful piece of jewelry, wall art, table art, serving dishes, olive oil bottles, or vases, there is something for everyone. Did you know MoltenWolf Glass takes commission work from visitors? With the help of  Zoom meetings, MoltenWolf Glass can bring your vision to life! Once on Bonaire, you can pick up your unique commission piece to take home with you.
Bonaire Landsailing Adventures
Bonaire Landsailing Adventures offers a thrilling experience on the East Coast for all ages. By using blokarts with sails, the only thing needed to race around the track is Bonaire's Tradewinds. Book a 30-minute slot, an hour slot, or choose to rent out the track for a group of friends or a party; anything is possible. After experiencing the rush of the wind, you will surely leave with a "blokart grin" on your face!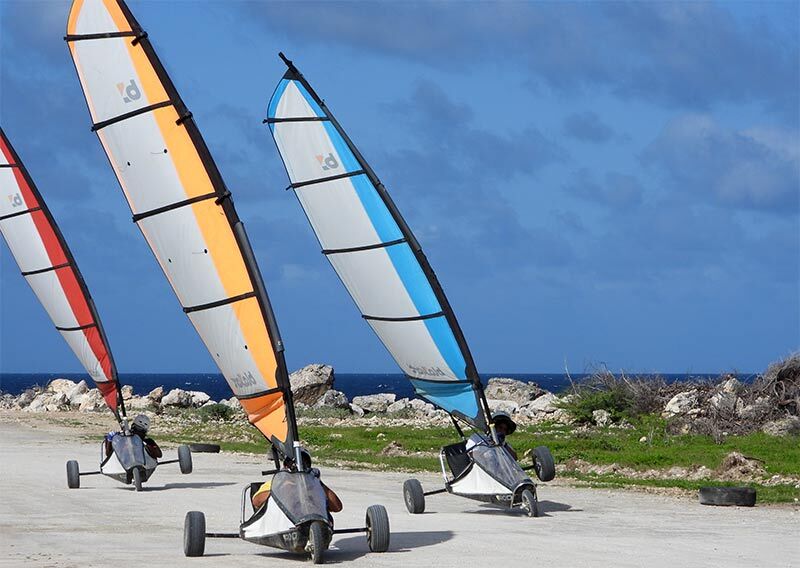 Zest for Life Yoga
Vacations are for relaxing, melting away the stress of everyday life, and focusing on you. Let Zest for Life Yoga help you get into a relaxing state of mind during a private Yoga session designed specifically to your needs or by joining a weekly Yoga class. Take the opportunity to nurture your body during your stay on Bonaire. Whether it's an indoor session or an outdoor session, you will be able to fully relax your mind and body.
Blou Blou E-Scooter Rental & Tours
Are you looking to explore Bonaire on a scooter? BlouBlou E-Scooter Rental & Tours offers sustainable e-scooters that are better for the environment. They also offer a variety of guided island tours. With multiple pick-up locations and charging stations around the island, you can easily explore many areas of Bonaire.
Joor Beach Supplies
While Bonaire has a couple of sandy beaches, most of the areas are quite rocky. Joor Beach Rentals offers comfortable beach chair rentals for the perfect day at the beach. They even have large umbrellas for shade, coolers to keep your drinks cool, and BBQs for rent! With pickup and delivery included, you will surely have an effortless beach vacation.
Bee Caribe Island Escape Games
Do you like scavenger hunts or love learning about history? Bee Caribe Island Escape Games offers a variety of games where you solve clues and learn about Bonaire's rich history while you walk and drive around the island. Grab a few friends, choose a game, and compete to be in the top ranking! They even have escape games geared toward families with small children. Choose one or a few and have fun!
Exploring Bonaire has many options.
During your next visit to Bonaire, don't forget that there are many land activities to experience as well. Be sure to try one or two new land activities on your next Bonaire vacation!
And just a friendly reminder as you are planning your next visit to Bonaire. Make sure you use the Official Visitor Entry Tax website for payment up to 7 days before your departure.
(Source: Bonaire Insider)