Shekhinah Tours shows you the highlights of Bonaire.
Recently, I joined Shekhinah Tours on one of their most popular tours, the North & South tour. Shekhinah Tours is a local company specializing in various island tours. The company started as a family business in 2005 and focuses on small groups and quality tours with knowledgeable guides. They go out of their way to make your tour on Bonaire memorable.
Small tour groups are ideal for interaction between guides and guests.
Regardless if you are coming from the cruise or staying on the island, you will be picked up from your location at the designated time. On the day of the tour, I was picked up by Michelle, a friendly local guide for Shekhinah Tours. As we drove south, I realized we had a nice mixed group in the van. There were two lovely ladies from the cruise ship, Andrea and Lorna, who reside in Southwest England, and Suzanne and Luca from The Netherlands, who were island hopping by visiting each of the ABC islands for a few days. The group was chatty and all smiles as we headed south.
As Michelle drove, she chatted about local information and referenced points of interest along the way. Of course, as questions were asked, Michelle always knew the answer to everything. Our first stop of the day was the Salt Pier. We learned about the salt pans, the pink water, and how the salt is used. After taking many photos, we were offered a nice cold beverage to enjoy as we continued our tour.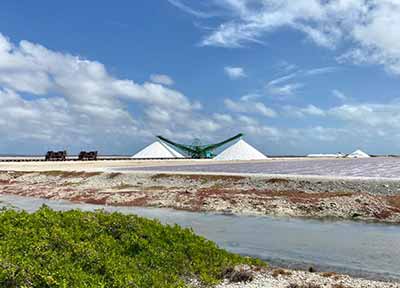 Heading further south, everyone enjoyed the stunning views of the turquoise water and even spotted a few windsurfers in the deep blue! Soon, we came to our next stop and learned more about the history of Bonaire. The local guides at Shekhinah Tours have extensive knowledge of Bonaire's history and love to share the details with the guests.
Heading north to view more of Bonaire's nature.
Eventually, it was time to head to the north part of the tour. As we changed directions and headed back towards town, Andrea, Lorna, and Suzanne asked questions ranging from local food, healthcare, electricity, and more. They were surprised that a few local cuisines are iguana soup, cactus soup, and goat stew! But then, a few beautiful pink flamingos caught their eyes, so we stopped for a photo opportunity. Why not?! Stops along the way are always possible!
As we passed by Captain Don's Habitat, we learned about Captain Don and his role in founding the scuba diving industry on Bonaire. His legacy remains an important part of Bonaire's history.
Queen's Highway provides stunning views.
Queen's Highway is a road in the north, commonly referred to as the tourist road. The views are just breathtaking and so vastly different than from the south. As we drove the winding road (or, as Michelle called it, "natural roller coasters"), we learned about how Bonaire came to be many years ago.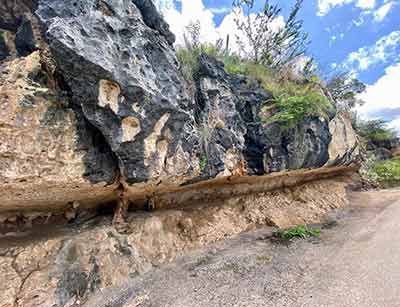 Of course, no tour is complete without a stop at 1,000 Steps. But don't worry, the staircase down to the beach is not 1,000 steps, but it sure does feel like it if you are exiting from a shore dive! But the photo opportunities are endless at this location. Whether it's the staircase, the cliffs, the blues of the Caribbean Sea, or the iguanas, you will not be disappointed! I could look at the view all day and not get bored! Once everyone was ready, we returned to the van and received another tasty beverage for the remainder of the tour.
Making our way to Rincon.
As we drove over a few more natural roller coasters, we enjoyed the scenery along the way. Soon, we stopped at the lookout point at Gotomeer. You can see so much beauty from this spot. After a while, we returned to the van and headed to Rincon, the oldest settlement on Bonaire. Our guide, Michelle, gave us a vast amount of information about Rincon's history and answered questions.
As we entered Rincon, we arrived at The Cadushy Distillery and were greeted by the friendly staff. Michelle offered us a taste of Cadushy of Bonaire, a cactus liquor, and told us how they make their six liquors and five spirits. Andrea, Lorna, and Suzanne loved it! And I have to admit, so did I! If you can believe it, I've never tried it. Just kidding, I love all the products there! As we wandered around the relaxing garden, we eventually ended up at the bar (surprise, surprise!) Andrea and Lorna had a cocktail while Suzanne and I sampled the liquors and the award-winning Rom Rincon.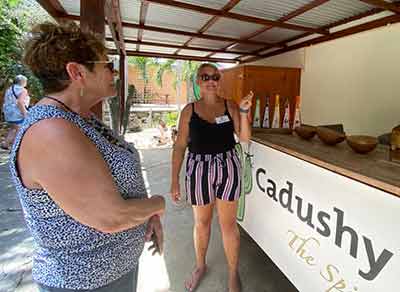 Eventually, it was time to continue the tour, and we headed back along the East Coast of Bonaire. We came across wild donkeys and goats as we drove past and headed to one last place, Seru Largu, so that the guests could see the view of Kralendijk from above. I never get tired of that view! As we drove down our last natural roller coaster of the day, everyone in the van was all smiles!
A Spectacular North & South Tour with Shekhinah Tours
What a wonderful day we had on the North & South Tour! Michelle was an excellent local guide with vast knowledge about Bonaire, and we all had a fabulous time! Even for me, who lives on Bonaire! I thoroughly enjoyed the tour and even learned some new information along the way! Thanks, Michelle and Shekhinah Tours!
As we were dropped off at our respective locations, we all said our goodbyes, but not before receiving a lovely parting gift from Shekhinah Tours. How sweet! Of course, I am not about to tell you the surprise! You will just have to book your own adventure with Shekhinah Tours to find out!
(Source: Bonaire Insider)