MoltenWolf Glass showcases local artists.
On Saturday, February 18th, MoltenWolf Glass will be hosting their first PopUp Art Gallery. Here, artists can showcase and sell their work for one day. Artists of any discipline residing in Bonaire can now sign up for future Art PopUps.
For Little Art by Femke
Art submitted can be of any type – from painting to fashion, photography, fine arts and more. The first artist showing their work in February will be For Little Art by Femke, who creates "Acrylic Pouring Art" inspired by the ocean and the colors of nature. The next Art PopUps will take place in May, August and October. Artists interested in participating can send an email with their portfolio to moltenwolfglassinc@gmail.com. A portfolio can be a pdf, a selection of photos or a link to a website or social media.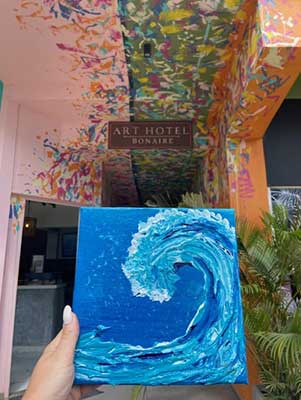 Supporting local artists
MoltenWolf Glass' owners Jeff and Valerie Wolf want to give the local art community in Bonaire more opportunities to exhibit their work. With the PopUp Art Gallery, they want to give an extra platform to local artists and more possibilities for residents and visitors to enjoy art culture in Bonaire. MoltenWolf Glass is not taking any commission and participating is free.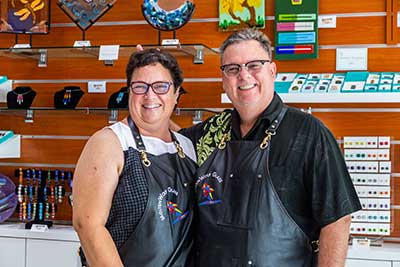 Upcoming Events
For inquiries, please email moltenwolfglassinc@gmail.com. Upcoming events are announced on their website: www.moltenwolfglass.com, in their newsletter, on Facebook and Instagram, and of course on InfoBonaire's Calendar of Events page.
MoltenWolf Glass is located in the Shopping District at Kaya J.N.E. Craane, Terramar 8. They are open from Monday to Friday from 9:30 AM – 5:30 PM, and occasionally on Saturdays.
(Source: MoltenWolf Glass)