Make your Bonaire reservations on the Melisa Sailing.
Are you looking for a luxury dining experience while sailing the stunning waters on Bonaire? Book the Melisa Sailing, Luxury at Sea in advance for a decedent fine dining experience.
The History of Melisa Sailing.
Melisa's journey to Bonaire was a long one that took careful planning. Like many people, Ernst Coors visited Bonaire on a holiday and fell in love with the island. Life on Bonaire seemed wonderful, and he was ready for a new adventure. With his love of sailing and fine dining cuisine, the ideal combination was made when Ernst came across the Melisa for sale. He decided to take a chance and purchase the Melisa.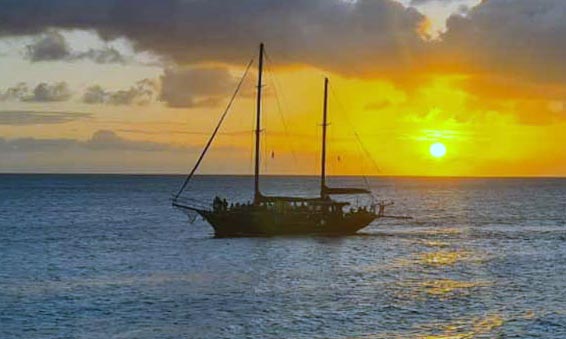 After a great deal of planning, preparations were made in order to bring the ship to Bonaire. The ship was built in 1987 in Bodrum, Turkey. In 2018, Melisa started her journey from Italy to Bonaire on a transportation ship. From Saint Croix, they sailed past Saint Kitts, Nevis, Montserrat, and Guadeloupe to Bonaire.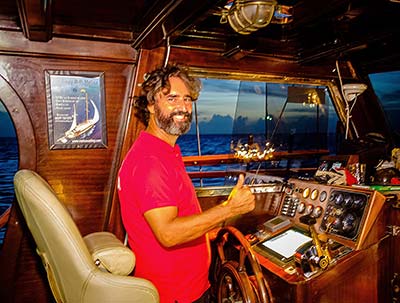 The first cruise tour on Bonaire took place in December 2018, starting small with sushi and snorkel trips. Soon, Ernst realized he could do more with the Melisa, and together with the chef, the first fine dining menu was created. The sommelier matched beautiful wines to the cuisine, and in January 2019, the first sunset cruise took place. The menu changes with the seasons and has Caribbean-Asian influences.
Choose from a selection of cruises.
Melisa Sailing offers 6- or 7-course experiences with a sunset cruise, a brunch cruise, and private charters. Each one is luxury at its finest. You will feel pampered, relaxed, and content as you sail the waters of Bonaire and sample the delicious fine dining cuisine.
Melisa 6-course Chef's Tasting Sunset Cruise
Experience a romantic luxury Bonaire sunset dinner at sea while the picturesque scenery around you changes. Enjoy Melisa Sailing's new freshly cooked 6-course chef's tasting menu with delicious selected wines that complement the ingredients. Spice up your Bonaire island experience on these turquoise waters and watch Bonaire's amazing sunsets.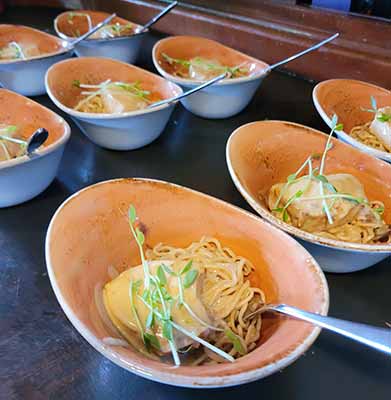 Melisa 6-course Chef's Tasting Brunch Cruise:
Cruise around the Bonaire sea from 10:30 AM to 2:30 PM. Enjoy a delicious brunch at sea with sunny and shadowy spacious seating areas. While sailing over the turquoise waters, you get a different perspective of Bonaire from the sea. The chef prepares a fresh 6-course luxury brunch while sailing and serves it with paired wines.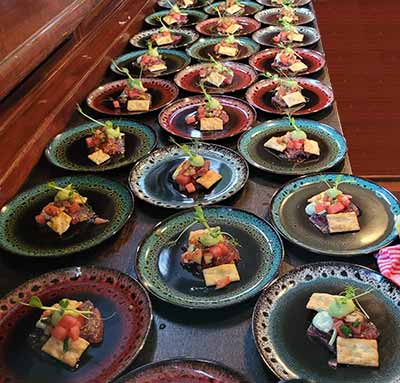 Experience Melisa Sailing privately with your family and friends during special occasions such as a birthday party, wedding ceremony, company party, or whatever you desire. Spacious lounge decks, comfortable cushions, and beautiful carpets give you the only luxury wooden boat experience on Bonaire. Private Charters can be tailored to your needs. The Melisa planning staff will assist you in creating a magnificent Bonaire cruise experience.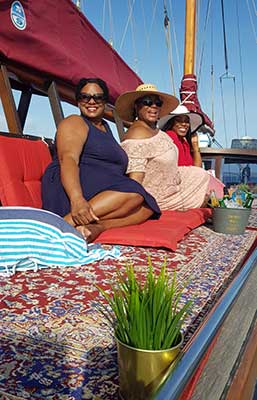 Premium Package Add-on:
Are you celebrating a special occasion or want to make the most of your luxury dining at sea? Upgrade your experience to the premium package. When choosing the premium package, you also get premium cocktails, oysters, premium wines, and Caribbean coffee dessert as a 7th course.
Melisa Sailing offers a relaxing, fine dining experience at sea.
Melisa Sailing is not only enjoyed by visitors. Residents also love sailing Bonaire's waters while being served exceptional courses. Nothing is more relaxing than watching the sun melt into the ocean while sipping prosecco with your loved ones. Go ahead and book your spot in advance. To book your reservation on the Melisa Sailing, contact +599-700-7070 on WhatsApp.
(Source: Melisa Sailing, Luxury at Sea)