Bespoke Journeys offers travel tips for your next vacation.
Find answers to many of the FAQ travel questions from Bespoke Journeys about coming to Bonaire to dive or to relax on this fantastic small Caribbean island. You'll find plenty of useful travel tips and advice to help you plan your Bonaire adventure.
When is the best time of the year to dive on Bonaire?
Bonaire is a great place to dive at any time of the year. This is because Bonaire is located south of the Caribbean's hurricane belt, so storms during the annual July to October hurricane season rarely interrupt your diving. Plus, Bonaire is blessed with year-round sunny weather and few rainy days.
For the best diving prices, it's cheaper to visit during the low season, which is from mid-June to mid-December. You'll find fewer visitors during this time, however it is a popular small island and booking last minute is difficult. If you plan in advance, you will normally get what you want at the best prices.
The water is also warmer in the latter part of the year, in the range of 82F. The hottest time of the year is September to December, with a breeze to cool things off a bit.
Should I book all-inclusive accommodation?
By staying in an all-inclusive, you would miss out on the vibe of the island. Bonaire offers top-quality restaurants, and each is unique. Chain restaurants are not permitted on the island (however, we do have two that were grandfathered in prior to that rule being enforced, Subway and KFC). Each has its own atmosphere, and it's hard to complain about any of the eateries. The restaurants on Bonaire offer a wide variety of cuisine choices and spending your evenings enjoying great food while watching the sunset is the perfect way to end your day.
What are the accommodation options like on Bonaire?
Bonaire might be a small island, but that doesn't mean there is a lack of choice for where to stay. There are several accommodation options available on Bonaire, including resorts, hotels, and villas. You will find something to suit your group within these accommodation choices.
For the best value, Bespoke Journeys recommend a resort-inclusive package. These dive packages are designed with your diving needs in mind and the means to take advantage of Bonaire's famous shore diving opportunities. With a dive package, you get resort accommodation, transfers, truck rental, unlimited diving, and a choice of boat diving if you wish. You'll find some great savings with these packages.
Do I need a car to get around? Should I rent a car or truck while on Bonaire?
There is no public transport on Bonaire, however there are taxis. Bespoke Journeys recommend renting a car or truck to get around. If you're visiting to dive in Bonaire, you can make the most of the amazing shore diving on offer. With your own truck, you can move from each shore diving location with ease. You can also get to dinner, supermarkets, activities and go sightseeing whenever you want.
Is it expensive to dive on Bonaire?
Bonaire is one of the world's cheapest places to dive. This is because so many of the dive sites are accessible by just walking in from the shore, you don't need a boat. This cuts down your diving costs significantly.
You can save by visiting during the low season when accommodation is cheaper. You can also save money by sharing accommodations with other divers to get group discounts. Bespoke Journeys can help you arrange these bookings and better understand your dive pricing options.
Are there good supermarkets on Bonaire?
There are several good supermarkets in Kralendijk. These are Van den Tweel, Warehouse, and Bon Di Grio (cash only). You will find them well stocked. Besides the large supermarkets, there are mini-marts dotted around town.
​Van Den Tweel
Hours are 8 AM to 8PM, 7 days a week
Address is 39 Kaya Industria, Kralendijk, Caribbean Netherlands.
Van Den Tweel is a large, upmarket supermarket offering a wide selection of products from Europe and the USA. Great for finding fresh fruit and vegetables, meat, fish, dairy and deli items, bakery produce, and wine.
​Warehouse Bonaire
Hours are 8 AM to 8 PM, 7 days a week
Address is 24 Kaya Industria, Kralendijk, Caribbean Netherlands.
Warehouse Bonaire offers a good selection of produce and groceries. This store is a more casual and smaller supermarket than Van Den Tweel. You can find all the basics you need here.
​BonDiGro Supermarket
Check opening hours as they can vary.
Address is 29 Kaya Industria Kralendijk, Caribbean Netherlands.
BonDiGro is a co-op supermarket set up to offer a less expensive grocery store to the larger chains of Van Den Tweel and Warehouse Bonaire. You'll find everyday basic groceries, but you might not find everything you need. It is the cheapest supermarket on Bonaire but accepts cash only or local bank ATM card.
Is there enough to do for non-diving partners?
There are many activities for the non-diver to do on the island. The island has some beautiful scenery and a lovely National Park in the north of the island. In addition, you'll find island tours, windsurfing, fishing, caving, kayaking, snorkeling and many more activities on the island. Take advantage of some amazing dinner cruises on sailboats and catamarans, one of our favorite things to do.
In the evening, there are many small high-quality restaurants to enjoy while sharing a glass of wine and discussing the day's activities.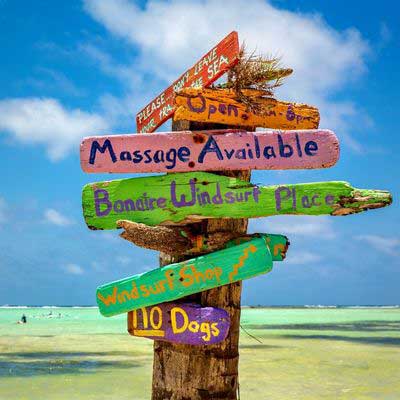 How far in advance do I need to book to dive in Bonaire?
Another Bonaire travel tip is how far you need to book in advance. If you book six months out, you will normally get the accommodation you want. You can book earlier, and you can also book later, however you may not get exactly what you want or the dates you want may not be available.
About Bespoke Journeys
Bespoke Journeys is a travel agency on Bonaire. With travel specialists permanently located on Bonaire, they can help you with all your Bonaire travel requirements. For any additional information or advice, please get in touch.
(Source: Bespoke Journeys)