Do you think you have seen it all on Bonaire? Give deep-water bottom fishing a try!
Bonaire's water can be deep, which is great for deep-water bottom fishing. Did you know the depth between Bonaire and Klein Bonaire can reach 900ft?! Flying Fish Charters, founded in 2020, knows the best spots to catch fish and goes the extra mile for your satisfaction.
What is deep-water bottom fishing?
Bottom fishing is where you drop lines to the bottom of the sea. Due to the variety of fish at that depth, you never know what you will pull up.
In these deep waters you will find fish like silk snapper, queen snapper, mutton snapper, amberjack, snowy grouper, tilefish, and many others. Because most of these fish grow slowly, only a few will be caught from a spot before moving to a new location. It's better to leave the rest for another day.
What can you expect from deep-water bottom fishing?
There is a reason fishermen are early to rise. It is prime time for fishing! Once you arrive at the marina, you will be greeted by the Captain and crew, shown around the boat, and given a safety briefing before going out to sea. Once you leave the marina, you head to a spot to fish for live bait. The live bait will help you later on during the day while you are bottom fishing.
As you pull up to the bait fishing spot, you look around and notice that you are not alone. A few other fishermen were doing the same thing. After catching some live bait, you head to your destination. Since Bonaire's waters reach a deep depth very quickly, you don't have to go too far. Then again, what's the fun in that? Flying Fish Charters will take you north towards Bopec, South past the lighthouse, or west past Klein Bonaire, depending on what you are looking for and the strength of your sea legs.
The plan of the day.
Recently, I had a chance to tag along on a charter with the plan to head south past the lighthouse. If you know Bonaire, you know the waters can be rough, and that particular day was no exception. The Captain used his sonar to determine the area's depth and if any fish were below us. Once he found an active site, the fishing lines dropped to 370 ft to start deep-water bottom fishing, and fingers were crossed that we would catch something spectacular.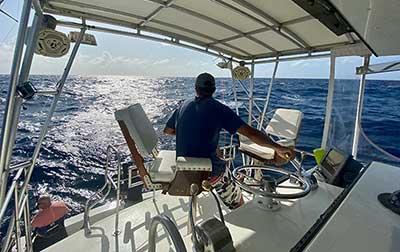 Sometimes it takes a few tries to find the right spots of the day. We repositioned ourselves a few times due to counteracting the wind with the current and lines. The boat was rocking and rolling with the waves, but the Captain and crew knew how to handle it. More importantly, the guests didn't mind the rough waters. I absolutely love the feeling of the huge waves rocking the boat, so I was very happy. Of course, the fishing charters are private, so if anyone couldn't handle the waves, Flying Fish Charters would have moved to a new location. If you tend to get seasick, please consider taking something before the boat leaves the marina.
After about two hours at the southernmost point of Bonaire, we headed slightly north and rounded the island. Even though we were closer to shore, this area was much deeper at 720ft. Once in position, the sonar system was checked for activity, the lines were dropped, and we waited.
What did we catch?
Thanks to the Captain and crew giving the guests tips and tricks, we ended the day with mutton snapper, silk snapper, blackfin snapper, and yellowmouth grouper. While you won't always catch big fish, any day on the water is a good day. Fishing is a combination of patience, luck, knowledge, and skill.
Book a deep-water bottom fishing charter for your next vacation.
Deep-water bottom fishing is a great way to spend a day at sea with your friends and family. The crew is highly skilled and knowledgeable. They aim to go the extra mile for your satisfaction and will make sure you have a wonderful experience. The boat is a 42 ft Bertram convertible sportfisher with twin 430 hp diesel engines and was built to handle heavy seas safely. Flying Fish is fully equipped with an air-conditioned indoor area, a full bathroom, and an upper deck for your comfort and relaxation. Book your private charter today.
(Source: Bonaire Insider)