A Green Sea Turtle tagged on Bonaire by Sea Turtle Conservation Bonaire (STCB) in 2013 has now laid three nests in Mexico (2021).
A sea turtle that was captured and tagged and then released back into Lac Bay in 2013 laid three nests in Mexico in 2021. STCB tags approximately 200 to 300 turtles per year that are found in Bonaire's waters.  While smaller turtles receive a PIT tag, larger turtles are tagged with either one or two metal tags. These tags contain unique number combinations, so that when a turtle is recaptured or spotted, STCB can retrieve capture data from the specific turtle, including where and when it was tagged, its size, and weight.
Flora, Fauna y Cultura de México, A.C. reports successful nests.
Flora, Fauna y Cultura de México, A.C., an organization that carries out night-monitoring patrols as part of a program called Programa de Conservacion de Tortugas Marinas Riviera Maya-Tulum, spotted a Green Sea Turtle on the night of July 9th, 2021. This turtle had a metal tag on its right front flipper and, when they checked the number, they realized it was a turtle from Bonaire which had been tagged in Lac Bay in April 2013. At that time, she weighed 174 pounds/79 kilograms, and her carapace measured 31.3 inches/79.5 centimeters. In July and August 2021, she nested three times at Xcacel Beach, Mexico.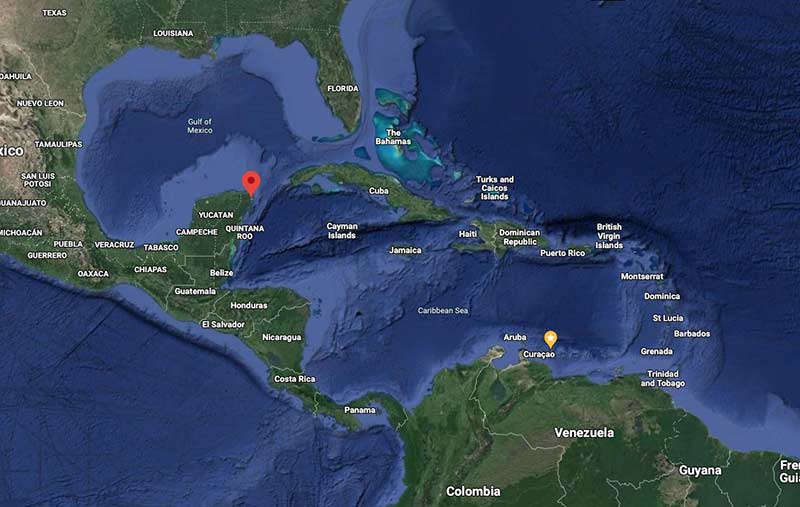 About Sea Turtle Conservation Bonaire.
STCB has been protecting Bonaire's turtles since 1991.  They conduct research, provide aid to injured turtles, and also impart education to anyone with an interest in sea turtles.  Not only do they tag turtles, but over the years, many of Bonaire's nesting turtles have been given a transmitter and their subsequent sea travels monitored.
One of the most unusual turtles tracked via transmitter was Just-Keep-Swimming Bonni, who in 2018 laid, or attempted to lay, an unheard-of six nests in one season.
STCB always welcomes any donations.  One way to help out, and have a wonderful, educational and entertaining activity yourself, is to sign up to accompany STBC volunteers doing weekly nest monitoring on some of Bonaire's beaches, which are held throughout the nesting season. It's a unique opportunity to see another side of Bonaire that many visitors miss.
For more information about their activities to protect Bonaire's sea turtle population, follow STCB on Facebook.
(Source:  STCB–Sea Turtle Conservation Bonaire)