Kas di Kurason (House of Hearts) is an organization that creates from the heart for the sake of the heart.
The apartment is fully wheelchair accessible and offers two bedrooms, one bathroom, an outdoor kitchen and living space, a beautiful yard with different patios, a playground for children and a fruit & vegetable garden.
Your Special Needs Vacation.
Kas di Kurason is an intimate vacation rental developed for people needing daily care or support who otherwise struggle to go on vacation. Kas di Kurason is run by Ingrid and her daughter Juliette who share the goal of making a relaxing and fun vacation possible for those with special needs and medical challenges. Whether you need daily personal care assistance or an extra pair of hands for a child with a disability, Kas di Kurason offers it all. Choosing Kas di Kurason means you will be renting a two-bedroom, one-bathroom apartment with a beautiful and spacious yard. During your stay, Ingrid will be at the apartment when required to provide you with the care and support you need. Juliette will only be a phone call away to help you find and organize all activities you wish to do.  
Beach Wheelchairs
Kas di Kurason offers two beach wheelchairs, making it possible for people who are wheelchair dependent or have difficulty walking to go to the beach and even enter the water! You can rent beach wheelchairs and ask for assistance (if needed) during your stay.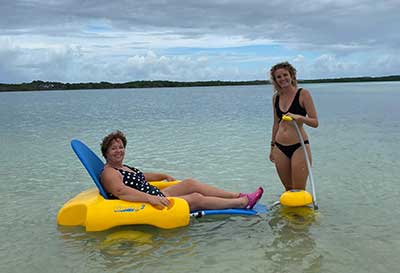 Professional Aquatic Therapy
Ingrid can provide professional aquatic therapy to aid in physical rehabilitation or for those who struggle to partake in other forms of physical activity due to low-level mobility.
Aquatic therapy can be helpful because:
The water provides a safe place for relearning different motor skills and retraining the body regardless of the current mobility level.
It makes exercise possible for those who are unable to participate in more conventional forms of exercise.
It helps relax and rehabilitate injured muscles.
It reduces stress and pain in different muscle groups.
It helps boost immunity.
If you're interested in learning more about aquatic therapy or participating in an aquatic therapy class, please feel free to ask Ingrid about this during your stay.
Meet your hosts.
Ingrid and Juliette are a mother/daughter team that cares deeply about helping others in any way possible. Coming from a large family who faced different challenges throughout the years, they know the tremendous value of having a relaxing, comfortable, and careless vacation. By creating Kas di Kurason, they want to offer that same experience to others.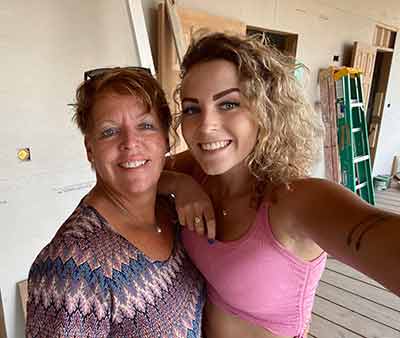 Ingrid is a registered nurse with a lot of experience helping individuals with physical and behavioral challenges. Her caring nature means she will do her best to provide you with the exact care or support that you require and make sure that you enjoy your vacation to the fullest. If needed, she will also help find the right people to provide you with a specific rehabilitation program or the proper care for specific special needs.
Juliette has an enthusiastic and social character, which led her to an expansive network on the Island. If there is any specific activity you want to do during your stay, she will be able to organize this for you. However, if you don't have anything specific in mind, she can help you find the right activities for you.