Bespoke Journeys Travel Specialists shares the best dive travel advice.
​If you want great diving, Bonaire should be on your dive bucket list. Calm waters, protected coral reefs, shipwrecks, and submerged structures come together to provide fantastic dive opportunities, and they're all teaming with marine life. It's no wonder Bonaire is a very popular dive destination catering to all levels of divers, from beginners through to advanced and onto tech diving.
Bespoke Journeys Travel Specialists focus on dive travel to Bonaire. They're based on Bonaire and dive here almost every day. They also dive all over the world and can honestly say Bonaire has some of the best diving in the world. To help you plan your dive adventure to Bonaire, Bespoke Journeys has answers to many of the diving related FAQs they get asked.
 What kind of diving is there in Bonaire?
Bonaire is known as the Shore Diving Capital of the Caribbean. There are officially 60 dive sites easily accessible from the shore and over 85 dive sites in the area (some only accessible by boat). You can drive from one dive site to the next on the main road, then walk in off the shore. The reef is a short swim from shore where you'll find abundant marine life in warm water, shipwrecks to explore and very healthy reef systems. These marine reserves have been protected for many years, and their pristine condition is a testament to Bonaire's conservation efforts.
Bespoke Journeys Travel Specialists recommend you plan on spending your time doing a combination of shore dives with some boat diving. Keep this in mind when picking your accommodation and rental vehicle. 
Boat diving is easy as well and just needs to be booked ahead of time. Otherwise, the likelihood of them being available a few days prior to you wanting to dive is not good.
What kind of marine life will I see in Bonaire?
When diving in Bonaire, you can expect to see seahorses, crabs, turtles, barracuda, grouper, large sponges, sea fans, eels, octopus, nudibranchs, and other smaller sea life. You'll get some great photos and macro opportunities for close-ups. Night dives are popular, especially from the house reefs when staying at one of the hotels or resorts.
Bespoke Journeys likes to document their dives. If you're keen to know what marine life you will come across on Bonaire, you can see that at their Bonaire Diving Gallery.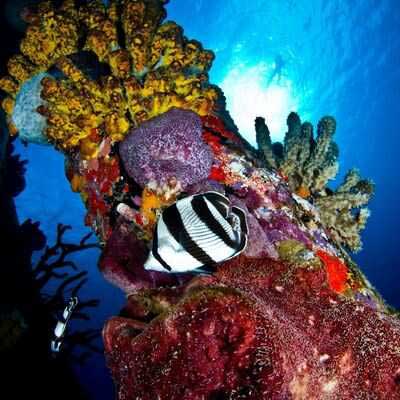 Do I have to bring my own gear, or can I rent it?
This particular dive travel advice is a personal preference. Many divers travel with their own gear as they know the history and service dates of the equipment. Some places around the world don't have the safety standards that others may have. Most dive shops on Bonaire rent equipment and service it annually. To dive on Bonaire, you can bring your own equipment or rent it and know that it's safe to dive with.
Is shore diving easy?
Shore diving is a wonderful experience, but it is not for everyone. Some considerations around shore diving include how easy it is to get to the water's edge with all your gear on, and the ease or difficulty of getting out of the water.
The benefit of shore diving is the freedom to dive on your schedule, not on a boat schedule like many other destinations. Every dive site is different, and Bonaire has shore diving sites for all levels and abilities.
If you are new to shore diving, consider hiring a local dive master/instructor for a few days. They can show you the ropes and assist with tips to make the rest of your shore diving easier and safer.
How does shore diving work?
With shore diving, you drive from each dive site in your rental vehicle with all the gear you need. You can dive multiple times a day. It is at your pace, and even better, it's on your schedule. Most dive centers will allow you to take two tanks, then return to drop off the empty tanks and pick up new ones.
You can dive as many times as you like, following those rules. You can't, however, take four tanks each and bring them back at the end of the day. If you are diving in the north, which is a bit more remote, you can always chat with your dive team, who will work with you for your needs. They have this policy because they want the tanks back so they can refill them for the next people to use.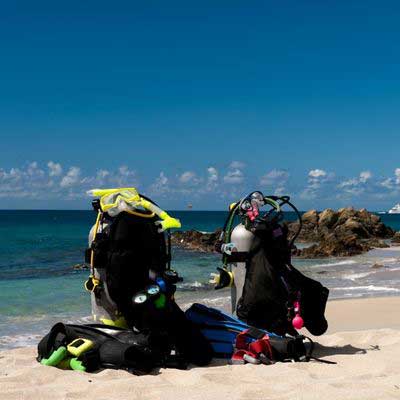 Do I need a dive guide?
That depends on your experience and level of comfort. Some divers like following a local professional who knows the sites and area. Others enjoy the freedom of diving on their own plan and exploring the reef on their terms.
I feel nervous. Can I hire a dive guide?
Yes, a private guide can be hired. They will discuss with you what you like and what you want to see. Then they will choose an appropriate site for you. The average cost per person is $45 or about $125 for a group. Two-tank half-day guided dives can be arranged but need to be organized in advance.
Can I do boat dives?
Yes, boat dives can also be arranged if you want the comfort of a boat dive. Boat dives leave around 8:30 AM daily or 1:30 in the afternoon. Typically, they visit Klein Bonaire, which is inaccessible from the main island other than by boat. The dive travel advice for boat diving is that booking in advance is a must, or you risk not getting on a boat.
Can I choose a shore and boat diving package option, a mix of both?
Yes, you can. If you specify this at the time of your booking, you can have it all arranged for when you arrive on Bonaire.
Is Bonaire a good place to learn to dive?
Yes, it is! This is because you can learn to dive in warm, calm waters with few currents and enjoy excellent visibility. That's the perfect condition to learn to dive in, plus there's a lot of marine life, making it even better. If you're interested in learning to dive in Bonaire, specify that when you make your booking, and Bespoke Journeys Travel Specialists can get you started on your dive adventure.
Bespoke Journeys is ready to plan your ultimate vacation.
As always, Bespoke Journeys Travel Specialists are available to help you with all your travel requirements. If you have additional questions, please get in touch. Bespoke Journeys recommend you book your Bonaire travel six months in advance to help ensure you get the accommodation options that suit you and your travel dates.
(Source: Bespoke Journeys)